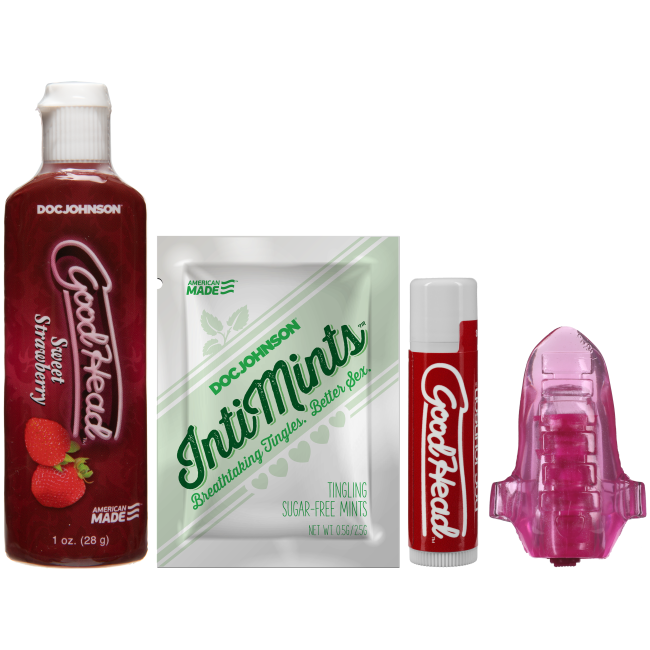 Approximate Product Dimensions
GoodHead - Lick It Kit
$19.57 $27.96
Or pay in 4 interest-free payments with
Transforming average head into GoodHead! The GoodHead Lick It Kit provides everything you need to give some extra-special oral love. Flavored GoodHead lip balm will have your lips in prime pussy eating condition. Delicious Strawberry flavored oral gel will have you down there for seconds and thirds. Put one of the oral sex tingling Mints in your mouth to increase the receiver's sensitivity. Slip on the one size fits all disposable vibrating tongue ring and watch their ecstasy soar to new heights! Think you're an expert? Learn some new tricks with the included GoodHead tips card. Kit Includes: 1 fl. oz. (29.6 ml) Strawberry flavored GoodHead Oral Gel, Pack of 5 of Tingling GoodHead Oral Sex Mints, Flavored GoodHead Lip Balm, Vibrating Tongue Ring (2 cell batteries included), and GoodHead tips card.
Privacy Guarantee
We will NOT sell or share your personal information beyond what is necessary to complete your order
Discreet Shipping & Returns
Products are shipped in a plain box or envelope with a nondescript return address.
Measurements
Approximate Product Dimensions